Our team of qualified tradespeople can assist you with all your plumbing needs, from general maintenance to blocked drains, and luxury bathroom renovations.
We offer the highest standard of workmanship, so you can rest assured you're in good hands. Our plumbers are available 24/7 to help you with your South Brisbane emergency plumbing needs.
Contact us today to book our South Brisbane plumbers, or organise a free bathroom renovation quote.
Top Tier Plumbing are experienced, reliable plumbers, committed to providing high quality workmanship and long-lasting fixtures.
We are a Brisbane-based company that specialises in hot water system repairs, high end bathroom renovations, plus general residential plumbing maintenance.
At Top Tier Plumbing, we believe no job is too big or small — whether you have a dripping tap or require a full bathroom renovation, we can provide our expertise.
Give our friendly team a call on 0448 341 244 and we'll organise to have a plumber sent out to your property at a time that works for you.
South Brisbane bathroom renovations
One of our specialties is luxury bathroom remodelling and renovation. From design through to installation, our experienced plumbers take the time to work closely with each customer, ensuring a vision is brought to life.
Top Tier Plumbing has great relationships with builders across South East Queensland, meaning you're provided with a smooth renovation the whole way through.
Well-designed and finished bathrooms add value to a home. We guarantee a long-lasting finish with all of our designs and strive to create bathrooms our clients are proud to show off to friends and family.
Bringing your dreams to life is what we do, and we're careful to work closely with each client to ensure the remodelling is meeting expectations. We provide up-to-date industry information, tailored advice, and exceptional craftsmanship.
Complete our simple form or call us to organise your free bathroom remodel consultation in South Brisbane.
24/7 emergency plumbing in South Brisbane
Top Tier Plumbing provides 24/7 emergency plumbing in South Brisbane and surrounding areas. We can help with flooded backyards, blocked drains, leaking taps, and a lack of water in your home.
The friendly team at Top Tier Plumbing is available day or night to find a solution to your plumbing issue. Emergency plumbing issues are often time-sensitive, and as such, we promise to have a plumber at your South Brisbane property within an hour of your call.
Contact us today to get your South Brisbane emergency plumbing needs sorted fast.
South Brisbane plumbing repairs
Our team can assist with a range of different plumbing repairs. This list includes:
At Top Tier Plumbing, no job is too big or small, and we'll work quickly to solve your plumbing issue and have things back to normal as quickly as we can.
Get in touch with our helpful plumbers today and organise a repair for your South Brisbane property.
Maintenance is an important part of owning a home, and plumbing maintenance is no exception. We offer general plumbing maintenance in South Brisbane and the surrounding suburbs. 
Ensuring your plumbing is maintained can help you avoid bigger issues later on. Let our team provide you with comprehensive plumbing maintenance for your South Brisbane home.
Hot water systems in South Brisbane
It can be annoying when hot water systems stop working and there's no hot water in your home! Luckily, our plumbers can provide you with the support you need to repair or replace your hot water system if an issue occurs. 
We will troubleshoot your hot water system and complete the work needed to ensure you get your hot water back.
The team at Top Tier Plumbing can also provide advice on which new hot water system to choose for your home. We install all the top-quality brands, such as Rheem, Rinnai, Thermann, and Bosch. 
We'll even remove the old system from your property so you don't need to worry about it!
Blocked drains South Brisbane
A blocked drain can be smelly and frustrating. There are many different causes for a drain to become blocked, including food waste, tree roots, and hair. 
Top Tier Plumbing have the latest drain-clearing technology available to provide a fast solution for your issue. From CCTV cameras through to modern hydro jetting equipment, we have the tools needed to unblock that stubborn clog.
Contact our experienced plumbers today to solve your blocked drain issues.
Next level after-sales guarantee
At Top Tier Plumbing, we provide an after-sales guarantee on all of our installations and workmanship. If there's an issue with a product we've installed (within warranty), we'll fix it free of charge. We also stand by our workmanship, so if you notice any problems with our work, we'll do our best to remedy the issue.
Our tradespeople will always show when they say the will. We don't like wasting your time, which is why we'll provide you with a two-hour window for our arrival when you book the job. On the day work is set to commence, we'll send you a message when we're within 30 minutes of your place. This message will also contain a link you can follow to track our location, so you'll know exactly when we're arriving. 
Call us today to book your next plumbing job with our reliable tradespeople.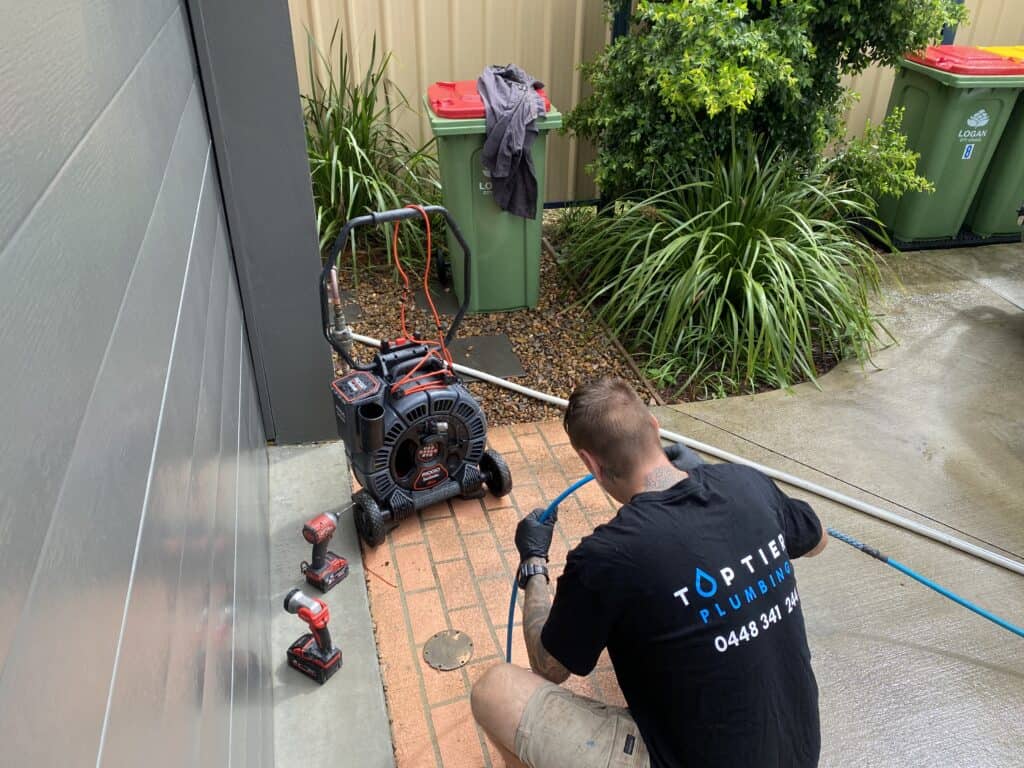 We use only the highest quality products in our plumbing solutions. These well-known brands have showrooms across Brisbane, allowing you to take a look at the products, fixtures, and tapware you wish to have installed before making your purchase. At Top Tier Plumbing, we partner with high quality brands to ensure the longevity of our work. 
Have a question about which items to buy? Our team can support you through the purchasing process, and then install your new fixtures for you. 
Contact us today to find out more about the quality suppliers we work with.
Book your free renovation quote in South Brisbane
We provide free, no-obligation site visits and quotes to customers interested in getting their bathroom renovated. This allows you to know how much the project will cost before the job begins.
When we visit your home for the quote, we'll talk with you about what you wish to achieve and whether you need assistance with the design of the bathroom. This is also a great chance to ask our experienced plumbers any questions you may have about the renovation.
Complete our online form or give us a call on 0448 341 244 to book for a free South Brisbane bathroom renovation quote.
Contact our plumbers today
Our team of plumbers are available to help you with all your South Brisbane plumbing needs. Get in touch with us today to book your next job or project.
Call us on 0448 341 244 or send us a message through our simple online form to get in touch. We look forward to working with you!